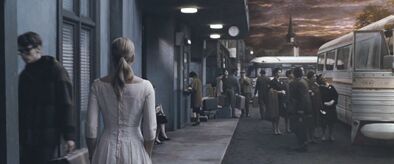 The bus station seen at the end of Sucker Punch is presumed to be in Brattleboro, Vt., near Lennox House for the Mentally Insane.
Movie Story
Edit
After escaping from Lennox House and stealing a dress, Sweet Pea makes her way to a bus station, where she tries to board a bus out of town. She is stopped by a pair of curious state troopers, but is saved by the bus driver, who is an incarnation of the Wise Man, and she is thus allowed to leave town.
The bus Sweet Pea boards is bound for Fort Wayne, Ind.
Sweet Pea encounters a doppelganger for the Little Tommy Soldier waiting to board the same bus.
Photo Gallery
Edit
Ad blocker interference detected!
Wikia is a free-to-use site that makes money from advertising. We have a modified experience for viewers using ad blockers

Wikia is not accessible if you've made further modifications. Remove the custom ad blocker rule(s) and the page will load as expected.