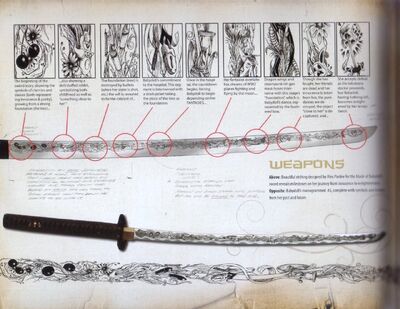 Babydoll's primary weapon is a Japanese katana given to her by The Wise Man at the Japanese temple. Engraved along the 24-inch length of the blade is a cartoon timeline of the movie (artwork by Alex Pardee) that covers events from the beginning right up to and including Babydoll's lobotomy.
Babydoll appears to be either unable to read the engravings (and thus learn what lies ahead) or unwilling to read them in the sense that she subconciously already knows what's coming (this is her fantasy, after all).
Photo Gallery
Edit
Ad blocker interference detected!
Wikia is a free-to-use site that makes money from advertising. We have a modified experience for viewers using ad blockers

Wikia is not accessible if you've made further modifications. Remove the custom ad blocker rule(s) and the page will load as expected.