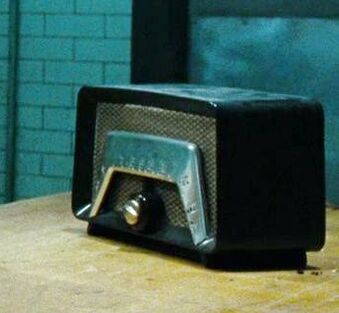 A radio played a key role in Babydoll's 
escape plan
 and ultimately led to a tragedy that radically changed everything for the girls.
Movie Story
Edit
In the brothel reality, Babydoll plotted to steal a knife from the Cook. She, Rocket and Amber met at the kitchen, but Blondie was missing because she was busy telling Blue Jones about the escape plan. 
Joined by Sweet Pea, the girls haphazardly cleared food and utensils from a table for Babydoll to dance on while Sweet Pea searched for music on the radio (since the reel-to-reel tape deck was unavailable). Rocket plopped the Cook on a chair and sat on his lap. When Babydoll began her dance, the girls were thrust into the Train fantasy.
While Babydoll was dancing, spilled water flowed across the floor and contacted the radio's frayed power cord, causing the radio to cut out and breaking the spell of Babydoll's dance. An enraged Cook reacted to the subterfuge by trying to kill Sweet Pea with a knife, but Rocket leaped to her sister's defense. When the music resumed, Babydoll returned everyone to the fantasy.
Babydoll herself overturned the tub of water that short-circuited the radio and ruined her own plan -- and ultimately cost Rocket her life.
Babydoll danced to "Tomorrow Never Knows."
Photo Gallery
Edit
Ad blocker interference detected!
Wikia is a free-to-use site that makes money from advertising. We have a modified experience for viewers using ad blockers

Wikia is not accessible if you've made further modifications. Remove the custom ad blocker rule(s) and the page will load as expected.