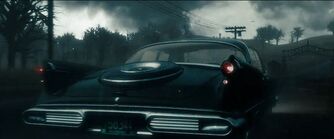 Stepfather
 drives a 1958 Imperial LeBaron Southampton four-door hardtop.
Movie Story
Edit
Babydoll 's Stepfather drives her to Lennox House for the Mentally Insane in his car during the opening sequence of the film. She is asleep in the passenger seat for part of the journey. The song "Sweet Dreams (Are Made of This)" concludes when Babydoll is dragged into the asylum.
The movie's logo appears on the rear window of the car, supposedly formed out of rainwater on the glass.
Photo Gallery
Edit
Ad blocker interference detected!
Wikia is a free-to-use site that makes money from advertising. We have a modified experience for viewers using ad blockers

Wikia is not accessible if you've made further modifications. Remove the custom ad blocker rule(s) and the page will load as expected.