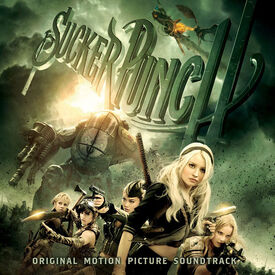 Sucker Punch is the soundtrack for the film of the same name. The soundtrack was released on March 22, 2011, by WaterTower Music. The tracks on the album are cover songs, a few of them performed by the stars of the film. 
Tracklist
Edit
In order of apperance in the movie:
Edit
Sweet Dreams (Are Made of This)
Where is My Mind?
Love is the Drug
Asleep
Army of Me
White Rabbit
I Want It All/We Will Rock You
Search and Destroy
Tomorrow Never Knows
In order of the actual soundtrack:
Edit
Photo Gallery
Edit
Ad blocker interference detected!
Wikia is a free-to-use site that makes money from advertising. We have a modified experience for viewers using ad blockers

Wikia is not accessible if you've made further modifications. Remove the custom ad blocker rule(s) and the page will load as expected.