The Courier tries to flee the World War I battleground via Zeppelin.
Movie Story
Edit
In the World War I fantasy, Babydoll, Sweet Pea, Rocket, Blondie and Amber try to recover a map from behind German lines. A Courier tries to escape with the map by climbing aboard a zeppelin, but Babydoll shoots down the skyship with a .303 British Lewis Gun, and the Courier crashes back into the trenches and finds himself (and the map) at Babydoll's mercy.
In the brothel reality, while everyone else is watching Babydoll dance in the rehearsal hall, Sweet Pea sneaks into Blue Jones' office to steal a copy of his map of Lennox House as part of Babydoll's escape plan.
Photo Gallery
Edit
Behind the Scenes
Edit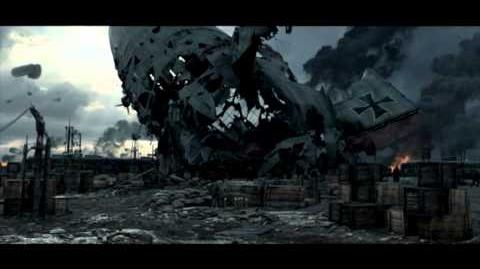 Ad blocker interference detected!
Wikia is a free-to-use site that makes money from advertising. We have a modified experience for viewers using ad blockers

Wikia is not accessible if you've made further modifications. Remove the custom ad blocker rule(s) and the page will load as expected.